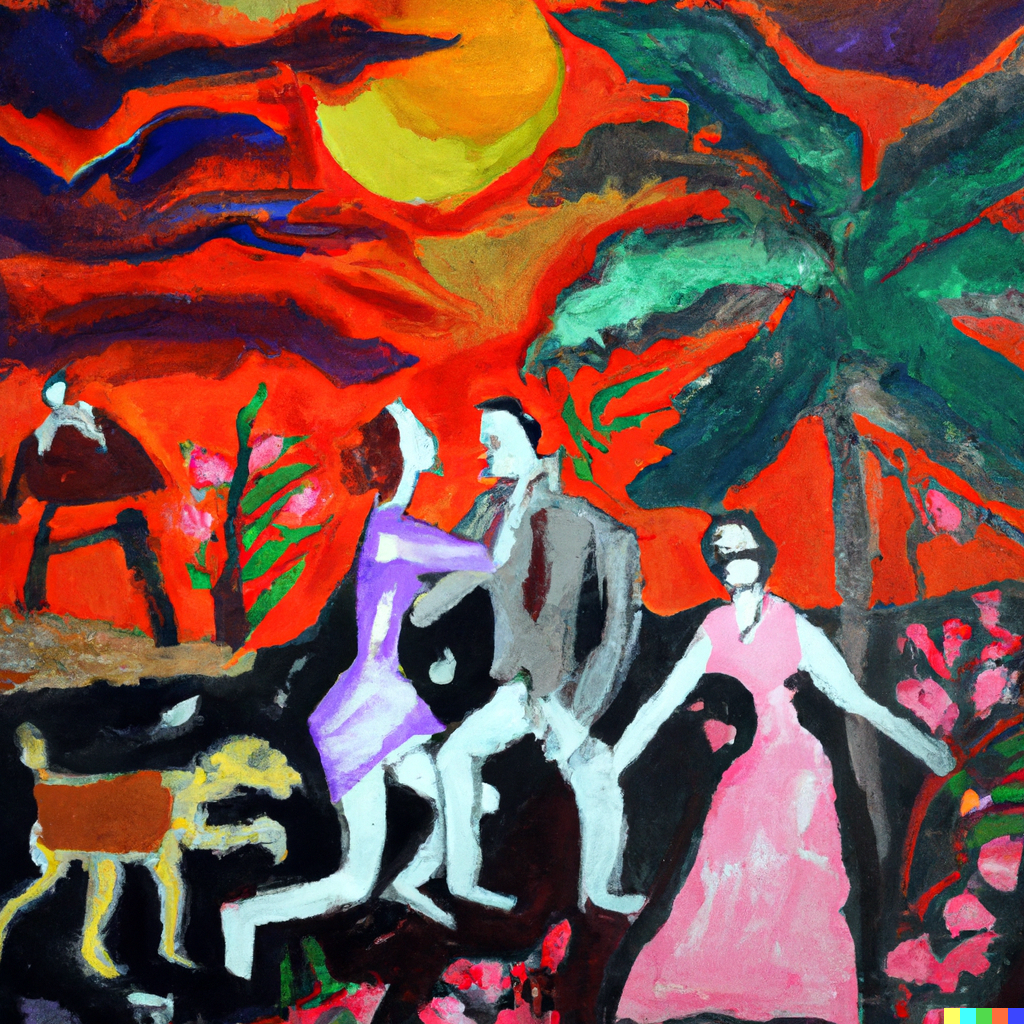 1.1 - Biwi No 1 (Or...Khalid Mohamed ko Gusta Kyon Aata Hai)
Background: This was the first piece I wrote and posted on www.manfrommatunga.com on June 08, 1999. It is arguably the first "Indian" "blog" post.
Subsequently in Jan 2011, I put a bunch of these pieces into a book called the Man from Matunga Chronicles. This was one of the Milestone pieces, since it was the first post ever that I uploaded to my own site that I had coded all on my own.
Khalid Mohammed was India's foremost film reviewers in the Times of India, having taken over the mantle from Iqbal Masood. His reviews made a big difference in the 80s and 90s.
The accompanying image is brand-new. Thanks to DALL-E.
---
I am a great fan of Khalid Mohammed (KM). His reviews make a difference to me and chances are that I would rarely go out of the way to see a film that he has reviewed with two stars or less. But, he does tend to go overboard at times - like the five stars he gave for Kuch Kuch Hota Hai. His likes and dislikes are obvious - he always tries hard to find something redeeming in anything starring Amitabh, Sridevi or Madhuri, and he doesn't like Govinda, though he has come around to accept him and his type of films. And, he just can't stand David Dhawan and his films.
The Times of India this Sunday front-paged his critique of David Dhawan's type of films. KM gripes about the lack of heroine-oriented roles and the obvious male chauvinism, both in the films and in the system that makes these films. The immediate reason for this critique is the film Biwi No 1, which according to KM, is an affront to women-kind.
So we went to see the film - one major reason was that it was in Aurora, which is less than a stone's throw away. We bought double-priced scalper's tickets and armed with Pringles, Sprite and microwaved popcorn settled down to the film. The film starts with a photo-shoot of Sushmita by Saif. Saif exits, leaving the way for Salman to enter Sushmita's life. The rest of the story can be read here.
The banter between Sushmita and Salman is good, the dialogues witty. They make fun of each other's heights and answer stupid questions with smart answers. For example, when Salman runs into Sushmita in a swimming pool and asks her "What are you doing here", she says "Playing football". You don't expect this in a Hindi film, especially in a "loud", "crass" David Dhawan film. By and large, the dialogues are nice and get cringy only when they talk about the wives being Biwi No ones. In fact there is none of the heroine-mauling and denigration that is usually seen in David Dhawan films starring Govinda. No heroine here is humiliated in public during songs and forced to fall in love with the hero.
The movie is a funny look at infidelity. Maybe because of the subject, it should have been given an A instead of the UA that Khalid objects to. But by that token, most of the serials on television, such as Saans and Hasratein should be aired only after 11 PM. It is probably just a sign of the times that these issues are not considered worthy of an adult certificate. The film instead of being heavy-handed, is lightly handled most of the times. The songs of course could have been done away with, but it is such a relief that the real "rona-dhona" is restricted to about two-three scenes.
The film does not condone infidelity. It makes it pretty clear that this is not an acceptable form of behaviour. The problem is that while it defines infidelity as not acceptable, it also defines the fact that if you, as a husband, are contrite and sorry afterwards, your wife will generally accept you back - she is probably just waiting for you to come back and say sorry, so that she can forgive you. Probably, this is what Khalid objects too, otherwise there doesn't seem much to object about in the film. In fact, it reveals one important truth - that it is really difficult to have an affair, especially if the other woman is unmarried and has ambitions. It can be extremely tough on the man who has to contend with demands, counter-demands, emotional blackmail at both ends, lies, half-truths - and that itself should be punishment enough. I remember a joke where after the wife finds out about the husband's affair, she invites the girlfriend home and shows her the bedroom which is strewn with his dirty underwear and socks and asks her whether she is prepared for this - obviously the girlfriend walks away.
By going overboard on the front-page of TOI, KM however has made sure that people will see Biwi No 1, if nothing else, then to just check out what the hoo-ha is all about. Nice extra publicity for the film.
Stupid points in the film
1. A take-off to Switzerland in a TWA flight (TWA doesn't exist anymore) and return by Air-India, as if its cheaper to fly two separate airlines
2. Filling the Retreat swimming pool with firangs to make it look like Switzerland.
3. Salman's huge house with a lawn in Mumbai - who has such a place in Mumbai? And if he/she does, would it remain free from extortion?
4. Salman's other bungalow for Sushmita. In Mumbai ? Come on... No one is that rich, and definitely not an advertising agency owner.
5. The last car chase between Tabu and Anil Kapoor
Nice touches
1. Saif with short hair and long side-burns
2. Tabu with her Punjabi cameo
3. Tabu's son who sleeps only when the television is on and wakes up when the television is switched off.
---
Addendum:
At some point in time, I lost respect for KM and his reviews. He left Times of India and moved to DNA and then to Hindustan Times in the latter half of the 2000-2010 decade. When he announced that he was leaving Hindustan Times at the end of some film review, I couldn't help but write something funny and nasty about his reviewing style. This piece titled "Baby Face and Pink Lips…" was posted on www.manfrommatunga.com and on Facebook, but not published. Since there is an unwritten "journalist" code that prevents journalists in mainstream newspapers and magazines from publishing nasty stuff about each other, this piece never appeared in the Mirror. Interestingly, this so-called unwritten code has come under considerable pressure during the recent Radia scam.
Bhavin's Writings Newsletter
Join the newsletter to receive the latest updates in your inbox.
Comments
---