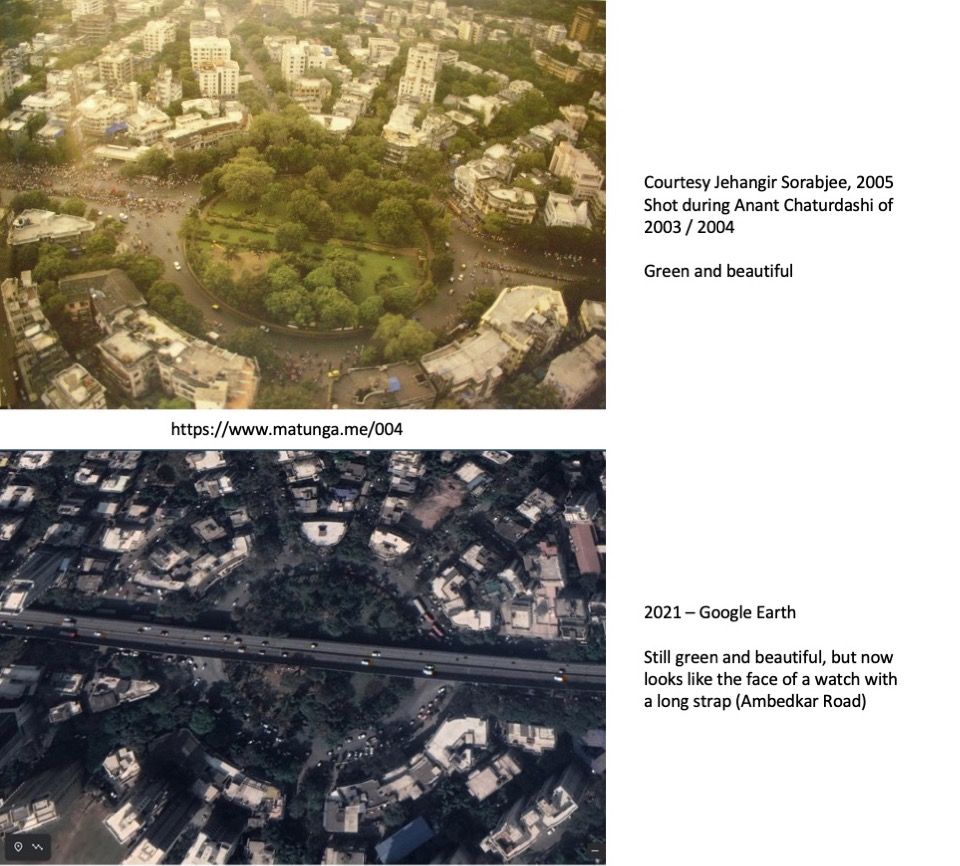 Background: This write-up is an amalgamation of two pieces, the first published in October 2005 (How Green in My Matunga) and the second in September 2006 (Aamchi Mumbai), before and after I had acquired a copy of Jehangir Sorabjee's book, "Above Bombay", which, according to me, is a book that should be in the home of every individual who loves the city.
The plan is to rewrite and update all my Matunga pieces that I wrote for Mumbai Mirror and to write a few more, to create a comprehensive historical and contemporary repository for the Matunga mentality.
---
I had always believed I knew everything one needed to know about Matunga…until Jehangir Sorabjee in mid-2005 sent me two pictures he had shot of Matunga from a helicopter. Whenever he had an opportunity, Jehangir would get into a chopper and fly over the city, shooting pictures from overhead vantage points. These photos eventually became the book, Above Bombay.
The photo of King's Circle on page 162 shot hovering just above Don Bosco immediately catches your eye. It is seen as a round, completely green island, circled by a grey concrete road, in turn rimmed by squat, flat buildings. Radiating from the circle, in a Beybladish manner, are its seven spidery arms,  including the main arterial Ambedkar road, which is part of NH1 and runs North-South. So, if you face north (12 o'clock), Ambedkar road makes up the 12 and 6 o'clock positions with three roads at  7 (Bhandarkar Road), 9 and 10 (Bhaudaji Road) o'clock towards the West and 3 and 5 (Adenwalla Road) o'clock towards the East.
Matunga is a green place, when seen from a height, all the roads lined with trees, masking the drabness of the old, landlord-owned, 1+3 storied buildings, with their peeling plaster and rain-water streaks, though the new high-rises are changing the landscape, at least aesthetically for the better.
This recent picture (Aug 2021, 17 years later) of King's Circle from Google Earth, shows that the green cover has not changed. The only difference is that the Circle is now interrupted by the long Sion-Dadar flyover, like the face of a wrist watch, with its strap.
The 2005 image (which was likely shot in 2004 or 2003) is interesting. There is almost no traffic, except for a few cars facing northwards on the wrong side of the Circle, with a huge number of people, lining both sides of Ambedkar road and the entire circumference of the Circle. There is one truck, opposite Amar Petrol Pump, in which, from that height, you can just about make out the Ganpati idol, on its way to Shivaji Park to be immersed into the ocean.
Jehangir couldn't have chosen a better day to shoot King's Circle, perhaps the only day, when people-power takes over the roads and pavements. The photograph does full justice to what the Circle looks like on the evening of Anant Chaturdashi. What the photograph does not capture though is the energy at ground level.
That year (2005) we had taken the kids to be part of this jamboree. At all times, I had one or the other kid on my shoulders (Ganpati-bapa style), trying to make sure they wouldn't miss the fun. The number of eating carts were too many to count, and there was everything from pav-vada to Chinese American chopsuey, to "golas", "buddhi-ke-baal", kulfi and multiple types of ice-cream with kids and adults walking around selling cheap plastic Chinese toys and a variety of balloons.
There were people and people and people everywhere.  Towards Dadar, Ambedkar road was clogged, with Ganpati-laden trucks and hand-carts, trying to make their way through the throngs of people crowding them, with intermittent cries of "Ganpati Bapa Morya" along with the latest "dhin-chak" music, interspersed with people blowing horns, for no reason whatsoever.  An equal number of people were settled on the large divider, some enterprising women having brought their plastic chairs and stools to sit on…the mistresses of all they could survey. These days, they sit in the garden and on the benches, "under the flyover".
As on all Anant Chaturdashis, the Circle was throbbing with an indescribable energy, drawing from and then in turn enveloping everyone present, as if part of a huge orgy, in honor of Mumbai's favorite deity.
Bhavin's Writings Newsletter
Join the newsletter to receive the latest updates in your inbox.
Comments
---