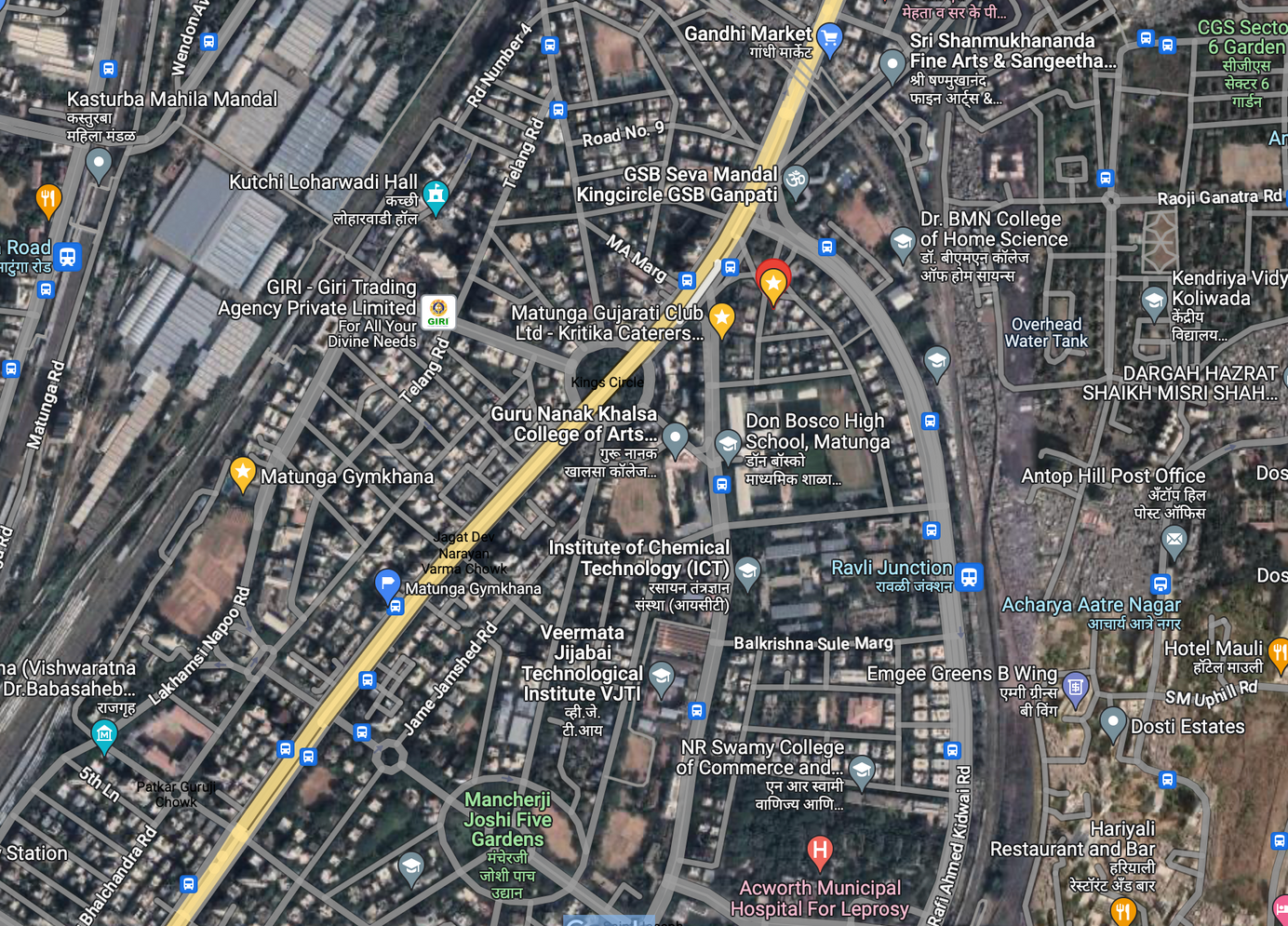 Background: This was the first piece, written and published under my own name, that appeared on June 04, 2005 in Mumbai Mirror, in a section called Writer's Bloc. My brief was to cover Matunga and depending on the number and frequency of the contributions by other authors, I would get published once in 10 days or two weeks.
---
We, Matungaeans (I hope I get the credit for coining this word) are a bit schizoid…at least those who live in the "right" part. Oh! You don't know which the "right" part is? Let's save that for another time.
So, coming to the "schizoid" part. When you ask people in Wadala or Sion or for that matter, even those in far-flung, remote places like Powai or Napean Sea Road, where they stay, they'll say that they stay in Wadala or Sion or Powai or Napean Sea Road, as the case may be (or swap places, depending on who they are trying to impress). When you ask people in Matunga where they stay, the majority, and especially those who stay in the "right" part will say, "King's Circle".
Why "King's Circle"? I am not entirely sure, but this central garden on Ambedkar road, though now called Maheshwari Udyan, does serve as the epicentre of Matunga, the other magnet being the Matunga market area. But the preference for "King's Circle" may also have to do with our innate preference for old British names as against "Indian" names.
Having said that, a good number will actually just say things like, "behind Aurora", "next to Don Bosco", "opposite Sahakari Bhandar", "behind Gandhi Market", smug in their insularity that the entire world knows exactly where these places are.
As if that's not enough, the entire swathe between Nathalal Parekh Marg (i.e. the road on which Don Bosco school stands) and Rafi Ahmed Kidwai Road ("char rasta" in local parlance) is called "Sewri-Wadala Road, Scheme xyz, Rd 123". I am sure this has some historical basis, but both Sewri and Wadala are reasonably far away and except for driving courier and delivery boys crazy, these names serve no purpose whatsoever.
And things, don't get any simpler. There are two stations; King's Circle on the Harbour line and Matunga station on the Central line. On the other side of the tracks from Matunga station, is another station on the Western line, called Matunga road, which supposedly is a part of an area called Matunga (W), a tiny place nestled between Mahim and Dadar BB. And though our Matunga is actually Matunga with an unfashionable (E) for East, in a perverse reverse snobbishness, most people in King's Circle / Matunga, don't even bother to acknowledge the existence of Matunga (W).
Worse off are those at the boundary zones of Matunga. Does Sion start at the end of Gandhi Market, or at the end of King's Circle station. Does Wadala start after UDCT or at the Wadala (E) bridge. Does Dadar start after Matunga Gymkhana, after Ruia college or after King George school. Which part of Bhaudaji road is in Sion and which part is in Matunga. The reason this is important, is because the "Matunga mentality" actually extends beyond these physical boundaries, making many of the border zone inhabitants reasonably confused as to their actual status. Oh, and now you want to know what the "Matunga mentality" is? Have patience…
Are you confused? Think about what we have to go through, living there, not even knowing what to call our place of stay! And you thought I was kidding about the schizoid part…
---
Addendum: Though a good number of pieces were all about Matunga, I was able to push in a fair-bit of non-Matunga stuff, including some film reviews. Eventually though, one after another, the contributors all dropped off, until the last two remaining were Shameem Akhtar, who used to cover Kandivali East and me. And sometime in 2008, the whole concept was finally given its due burial.
Bhavin's Writings Newsletter
Join the newsletter to receive the latest updates in your inbox.
Comments
---